Wednesday, March 19, 2014 - 7:00pm
010 Page Hall (next to the Ohio Union)
The Center for the Study of Religion presents the third lecture in our 2013-2014 "Religions of the World" community lecture series. All lectures are free and open to the public.
Abstract: Although in many respects the most popular religion in Japan, Shinto is also frequently misunderstood, especially by its western interpreters. Many know it for its animistic love of nature as depicted in its shrines and popular anime films, or for its pantheon of deities in myths about creation, or for its festivals and customs in the everyday life of Japanese families, or for its veneration of the emperor that inspired kamikaze pilots. How do these diverse elements emerge from a single religion? Why do many people, including many Japanese, argue that Shinto is "not a religion" at all? What future does Shinto have in an increasingly technological, secularized society like Japan?
Tom Kasulis is director of OSU's Center for the Study of Religion and is a professor in the department of Comparative Studies. His book, Shinto: The Way Home was published in 2004 and its Spanish translation, Shinto: El Camino a Casa, appeared in 2011.
**Public parking available next door at the Ohio Union South Parking Garage with entrance from either High Street or College Road. For additional information,
please visit www.campusparc.com/osu/garages.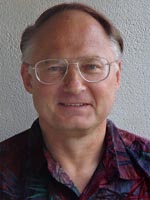 ---
View this lecture (m4v format)
---