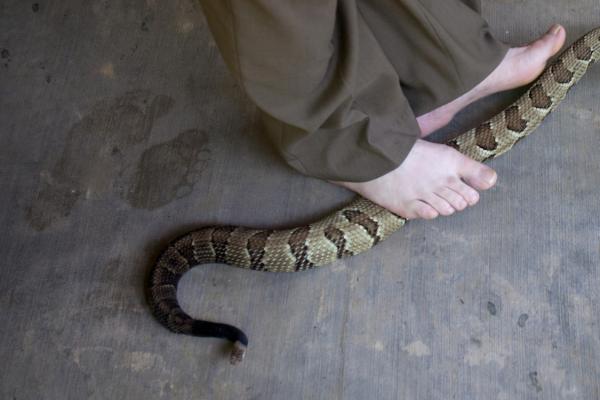 November 30, 2017
All Day
The Ohio Union, Hays Cape Room
The Center for the Study of Religion
presents
Test of Faith:
Signs, Serpents, Salvation
a Book Talk featuring Lauren Pond
**Copies of the book will be available for sale and signing at the event. Retail price is $45.**
Pentecostal serpent handlers, also known as Signs Followers, hold a literal interpretation of a verse in the New Testament's Gospel of Mark which states that, among other abilities, true believers shall be able to "take up serpents." For more than a century members of this uniquely Appalachian religious tradition have handled venomous snakes during their worship services, risking death as evidence of their unwavering faith. Who are the serpent handlers? What motivates them to continue their potentially lethal practices through the generations? Documentary photographer Lauren Pond traveled to West Virginia in search of answers to these questions.
Test of Faith provides a deeply nuanced, personal look at serpent handling that not only invites greater understanding of a religious practice that has long faced derision and criticism; it also serves as a meditation on the photographic process, its ethics, and its capacity to generate empathy.
LAUREN POND is an award-winning freelance photographer based in Columbus, Ohio, the manager of the Fresh A.I.R. Gallery, and a multimedia content producer for the Center for the Study of Religion at Ohio State University. Her photographs have been seen in solo and group exhibitions throughout the United States and in Australia.
This event will be free and open to the public. For any questions, please contact (614) 688-8010.
Parking for this event is available at the Union South Garage, which can be accessed from High Street or from College Road S. Metered parking is also available along W. 11th Avenue west of High Street, and on W. 12th Avenue across from Hale Hall. Information about ADA accessible permits and parking can also be found here.
---