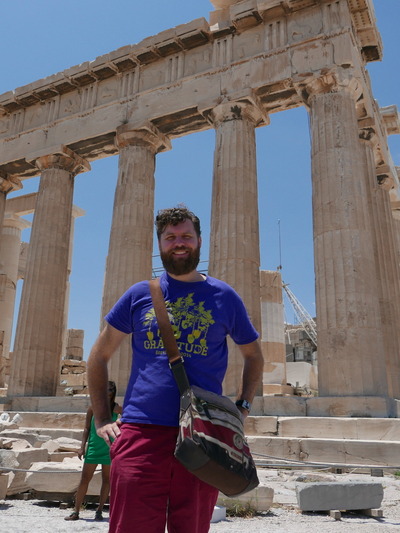 Richard Fletcher
Associate Professor, Department of Classics
328 University Hall
230 N. Oval Mall
Columbus, OH
43210
Education
Ph.D. University of Cambridge
Recent Articles and Books:
'Platonizing Latin: Apuleius' Phaedo', in K. Volk and G. Edwards (eds) Roman Reflections: Essays on Latin Philosophy, Oxford University Press. 2015. 238-259.
'Socrates 420', in P. Chan, R. Fletcher and K. Marta (eds) Hippias Minor or The Art of Cunning. Badlands Unlimited and DESTE Foundation. 2015. 89-126.
'Prosthetic Origins: Apuleius the Afro-Platonist' in B. Lee, E. Finkelpearl, L. Graverini (eds) Apuleius and Africa, Routledge. 2014. 297-312.
'Epicurus' Mistresses: Pleasure, Authority, and Gender in the Reception of the Kuriai Doxai in the Second Sophistis', in B. Holmes amd W. H. Shearin (eds) Dynamic Reading: Studies in the Reception of Epicureanism (Classical Presences) Oxford University Press. 2012. 52-88.
'Plato Re-Read Too Late: Citation and Platonism in Apuleius' Apologia' Ramus Vol. 38.1. 2009: 43-74.
'No Success Like Failure: Apuleius and the Task of the Translator' In M. Paschalis, S. Panayotakis, G. Schmeling (eds) Readers and Writers in the Ancient Novel (Ancient Narrative Supplementum 12) Groningen: Barkhuis Publishing. 2009. 184-196.
Reviews:
Review of Trapp, (M.) (2007) Philosophy in the Roman Empire: Ethics, Politics and Society. JRS, 99 (2009) 241.
Review of Tarrant, (H.) & Baltzly (D.) (2006) (eds) Reading Plato in Antiquity. JHS, 128 (2008) 282.
Review of Goff, (B.) (2005) (ed.) Classics and Colonialism. The Classical Review, 58.1 (2008) 296-297.
Interests:
Roman literature and philosophy